Growing up, I found myself digging through my mother's jewelry boxes on multiple occasions. I have photos of myself as a toddler wrapped in her necklaces and playing with her rings, pretending, imagining myself as a grown up version of her. I even once, dropped a very beautiful ring down the toilet and she got very very mad at me, OOPS! It's silly to think, that even now, I find myself doing the same things I did as a child, pulling out her jewelry box and trying on all her rings that fit my fingers as if they were made for me. Wondering, trying to remember when she wore those pieces last, when she bought them, and in what city.

After my mother passed away, being the only daughter, I got to keep all of her prized jewelry, all of her silver rings, her gold chains, her jade buddha that she wore around her neck every day, her gold ring with the diamond pendant and her name M. Eugenia engraved alongside it. Jade and gold were her favorite combination. She had boxes and boxes of jewelry I'd never seen before and hoped, that one day, she'd pass along to me.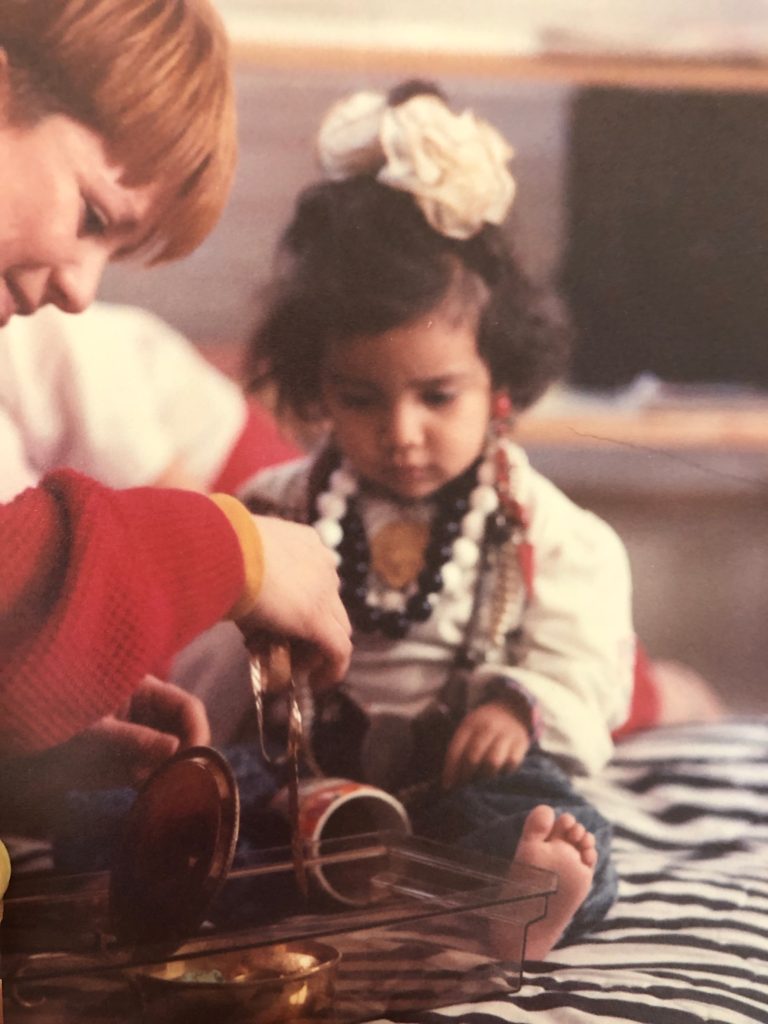 One afternoon, after the dust settled from my mothers' funeral, my Tia Kika and I sat in my brothers' living room and we went through her jewelry box together, pulling out each piece, passing them around, trying them on, and me, asking Kika always, "And who bought her this one?" Her answer, to my surprise — although knowing my mother, I should have already known, was quite often, "She bought that one herself."
My mother bought most of her jewelry for herself, what a simple and beautiful act of self-love. If they were not gifted to her by her father, my abuelo, she purchased them for herself, and why not? Every woman deserves to own an impeccable collection of jewelry, and if you're a single working mother like she was, it made perfect sense that she would be the only one spoiling herself. It is an act of kindness to ourselves that maybe we sometimes forget is necessary. My mother had so many boxes of jewelry, yet she wore the same 4 pieces every day. I've been making an effort to wear the jewelry I've collected on a daily basis, and not just saving them for "that special occasion." Every day is a special occasion, we are alive, and we are loved! It is so easy to forget that simple concept.
I wear my mothers jewelry with pride. Keeping a piece of her close to my heart at all times. I hope that she sees how much inspiration she's instilled within me. When I wear my mothers rings I think of those delicate yet strong hands that held up my family in the best and worst times. Her fingers stroking my curls, her fingers wrapped around the steering wheel as she drove us to the Redwood trees in Sequoia, or the Ghost town in Calico, her delicate little hands stirring the frijoles and chopping fruta. Those hands that tucked me in at night as she crooned "mi negrita cucurumbe." I wear her jewelry with pride, and like her, I've made a ritual out of purchasing jewelry in every city that I visit whenever I travel. So that one day, when I have a daughter of my own, she can pull out my boxes and gaze at them, put them on her fingers and wonder what kind of woman she will grow up to be. Hoping that one day, she will be as independent and full of wisdom as my mother was for me.
In honor of all women and any person that identifies as a woman, Karlita Designs is offering 25% off all orders through the month of March with my coupon code LaMorena, so you too can say, "Yo me lo compre."