Tucked deep in the Ausangate (Sacred Mountain) region of the Peruvian Andes lies the majestic and picturesque mountain Winicunca (also spelled Vinicunca), also known as el Cerro Colorado, La Montaña de Siete Colores, or more commonly, Rainbow Mountain. Other than knowing it was a beautiful and breathtaking (literally!) trek to one of the highest peaks in the Andes, I had done little research before actually visiting Vinicunca. All that I managed to gather was that it was a really difficult hike but the view was absolutely worth it and let me tell you, it totally was!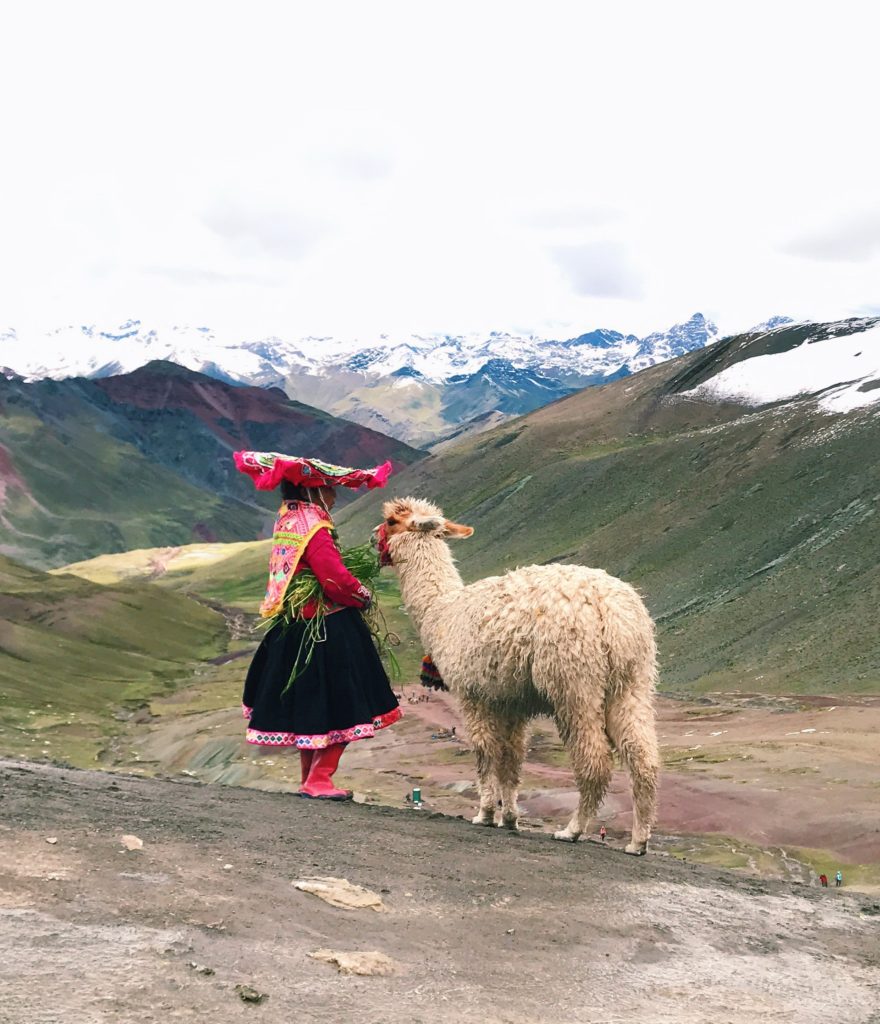 At nearly 17,000 feet above sea level, this newly discovered *to the western world * geological formation is something that I think everyone should experience at least once in their life. The mountain range is rich in iron, sulfur and copper which creates the stunningly colorful backdrop of Vinicunca. Only open to the public for about 2.5-3 years, the native Quechua community around the region have been trekking through these mountain ranges for years. They offer services like horseback rides for about 50-70 soles per way ($15-$20), which I think are totally worth it if you're not physically fit for the hike, fresh juices, coca tea, and choclo (giant corn eaten with Andean cheese) for energy boosts and rests along the way.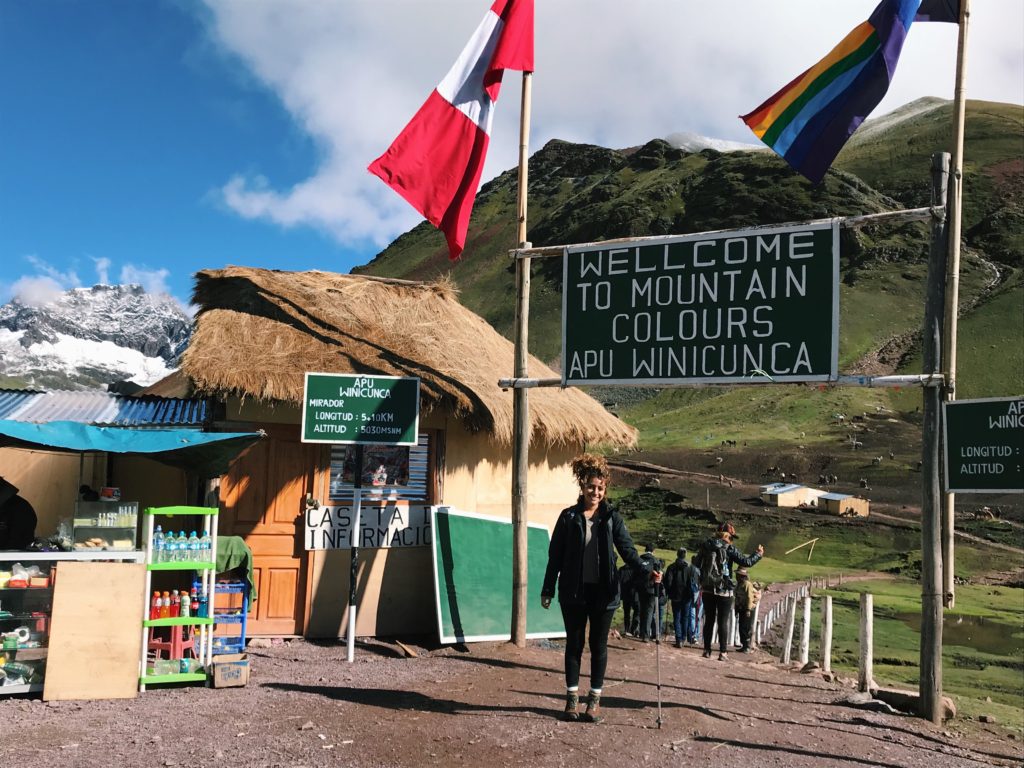 For starters, the trek was highly physically demanding. I opted for a one day hike that starts with a 3am pickup from Cusco, a 3-4 hour drive to the mountain range, a quick breakfast and the final drive to the base of the hike. The hike itself was about 2.5-3 hours. It's pretty obvious the community is still preparing for the influx of tourists and popularity of the mountain because as you enter, there are only two sets of port-a-potties at the entrance. There is maybe one other restroom along the hike and there doesn't seem to be a limit of tours per day, which means by 12pm-3pm, it's selfie stick galore.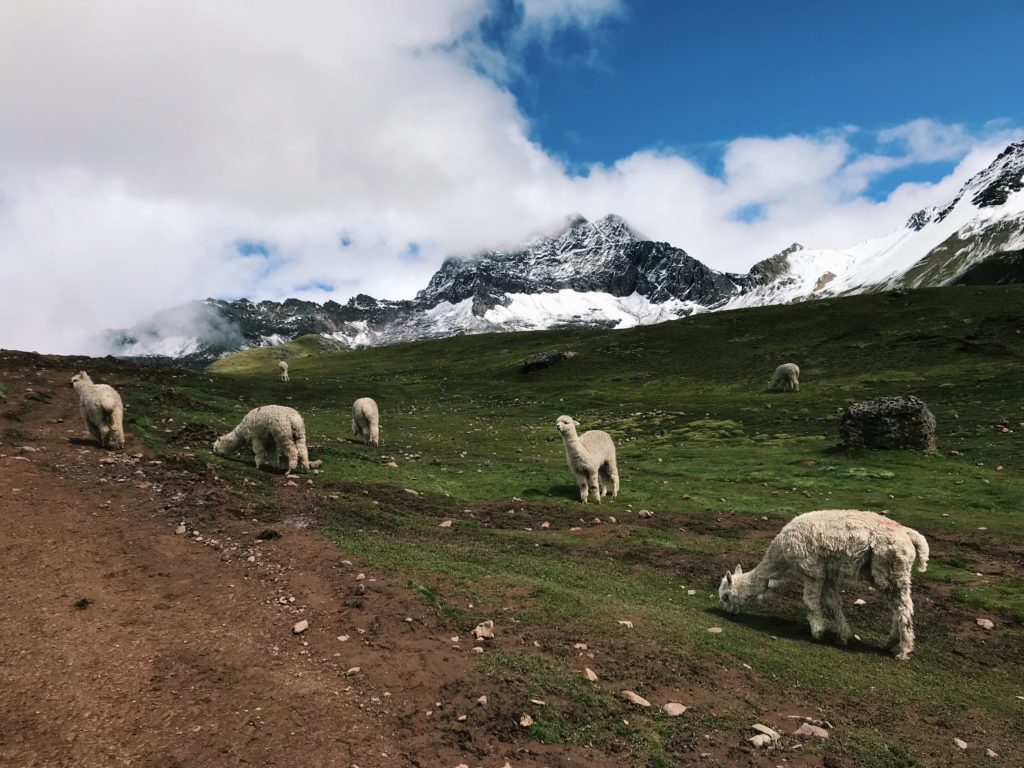 But as for the hike? ABSOLUTELY STUNNING. I can't even begin to describe how physically arduous, challenging and rewarding this hike was for me. Although I have yet to hike Machu Picchu (next week!), hiking Vinicunca was hands down the most physically rigorous thing I've ever pushed myself through. The altitude and weather really made it difficult for me to breathe, I had to stop and rest almost every 10-20 steps, with a 7.5 mile long hike, can you imagine how slow I was going?! (and near death with every breath!) At the base of the hike, the weather was hot and sunny, I managed to burn yet again (yes I applied sunblock numerous times), but the closer I got to the mountain top, the weather dropped exponentially and I had to layer up with winter gear. Throughout the trek, I was really in awe of the energy, vitality and hospitality of the local people. They hiked up and down the mountain all day long pulling their horses and tourists up the mountain, lugging fruits, snacks and equipment to help the famished tourists and hikers all along the path, all in sandals and rain boots. Just watching them made me swell up in tears.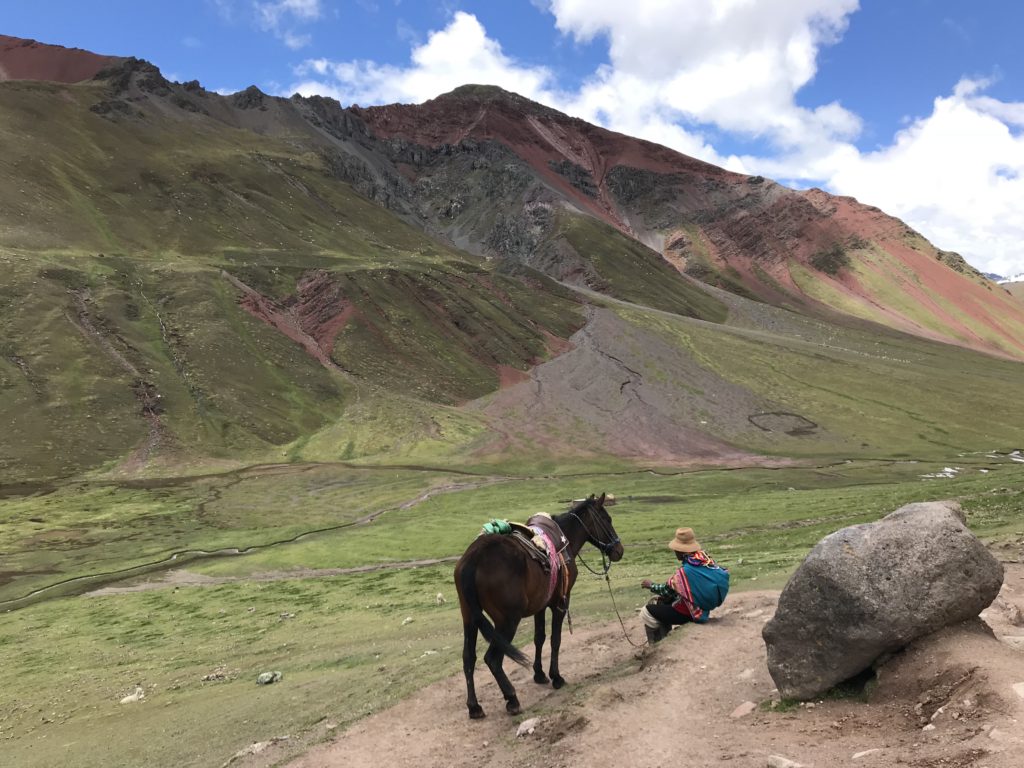 There were so many times – the entire time – that I wanted to give up, cry, throw up and pass out, especially at the very end. There were parts of the hike I wanted to stop and take photos, but the thought of expelling any extra energy to pull my phone out of my pocket was exhausting. At every rest, I was able to take in the magnitude and beauty of the mountains, the clear sky, the vibrant colors of the rocks, the alpaca and llamas that freely roamed the mountainside. It was absolutely gorgeous, but I felt like I was going to pass out at any given moment or burst into tears from exhaustion and disbelief that I was actually doing this. Hilary Banks in real life, the person that always opts for cab-rides instead of walking, and always the first to complain about any and everything that is slightly physically discomforting. I was really doing this. I almost couldn't believe it myself. Although there were horses to help you along the path, I really wanted to push myself beyond my limits and I did, with the help of my mama. Ever since she passed, I've always associated butterflies and dragonflies with her and her garden. Whenever I travel anywhere, I am sure to find both fluttering along my path. When she was alive, she would always remind me that there would be a day when she would no longer be around, yet she will always be here to help me and guide me along the way. All I'd have to do was look. So you can bet your sweet ass that I saw beautiful little butterflies dancing along the entire hike. It put into perspective how mesmerizing the world really is. The hike was humbling and I am so proud of myself for not giving up or giving in and taking a horse to the top of the mountain. If you ever decide to visit Vinicunca, please, I urge you to push yourself and do the entire hike by foot, it makes the view at the top all the more gratifying.